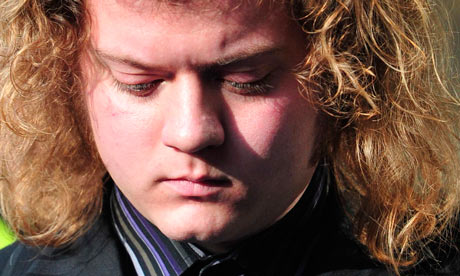 Edward Woollard, who pled guilty to violent disorder for throwing a fire extinguisher off the Tory Party HQ during anti-cuts demonstrations, has been sent down for 2 years and 8 months.
This begs an answer to the question: what exactly is the merit of pleading Guilty in the first place? With the state desperate to deter others from following the example set by the students, it seems the gloves are well and truly off. When an 18-year-old of good character pleads guilty after handing himself in, fully co-operating with the Police investigation and expressing remorse for his actions gets 32 months - an unusually harsh sentence for the circumstances - the Government has made it's position clear. This is entirely political - and if they want a political trial, they should get one.
In the following weeks and months, many school and university students will be waiting with baited breath, not for the results of exams but for the verdict of police investigations into their actions on the Student demonstrations at the end of last year. Whilst, for some of them, this will result in their being charged with offences at the heavier end of the Public Order Act - most likely the notoriously vague and drachonian 'Violent Disorder' - this does not necessarily mean they are guilty. Even if the Police do have crystal clear footage of them, for instance, throwing missiles.
After all, we have the legal right to defend ourselves - and subsequently, what little freedoms we have - from attack by others. This includes the Police and this has been successfully argued in many courtrooms in the past, when demonstrators have been attacked in Police operations of dubious legality and found themselves nicked for Violent Disorder.
Any good defence lawyer or defendants campaign should have the Met on the stand to account for their own excessive use of violence. Exactly how will they justify the baton charges, the kettling and containment, the horse charges, the mass arrests, the harassment, the planting of out-of-service Police vans, the surveillance and the sheer brutality that led to one demonstrator ending up in hospital with life-threatening head injuries?
This is something for those who are anxiously awaiting charge to consider when reflecting on the events of the day and how this ended up in their arrest:
It's time we put Public Order Policing on trial.
IF YOU ARE CONCERNED ABOUT YOUR LEGAL SITUATION:
* Contact LDMG or GREEN & BLACK CROSS.
* If you live in London, there may soon be a legal drop-in/defendent campaign session up and running from the OffMarket Social Centre in Hackney. Watch this space for more details.
* GET A GOOD LAWYER - We can reccommend Hodge, Jones & Allen (London) or Kelly's (Brighton) in particular.
* DON'T PANIC - Remember, even when attending a bail-to-return date with the Police, always say "No Comment". Wait until you have all the evidence from the CPS in front of you and scrutinise it thoroughly with people you trust (obviously NOWHERE NEAR a Police Station!). Although your lawyer will probably be trying their best, they have a lot of work to do and can't always give your case the attention it needs. Help them do their job by meticulously going through everything and making notes on any discrepancies or issues. Even if it looks like they have you bang to rights, there may be other technicalities or legal defences for your actions on the day, so don't be too disheartened.
Aaron Porter, the NUS leader who has consistently condemned violence and property damage on demonstrations, has now joined ex cop Brian Paddick in calling for the Met to improve its intelligence gathering.
The best case scenario is Mr Porter is ignorant and should talk to a few of the activists and organisers who have been at the sharp end of police intelligence gathering over the last decade.
From past experiences, this is a snapshot of what student activists might expect from 'improved' intelligence and data gathering:
• Having to run a gauntlet of police and police cameras just to get to a planning or preparation meeting, never mind a demo;
• FIT teams 'accompanying' known activists on demonstrations, even to the point of following them back to their family home, place of work, or in one well documented case to their grandmothers nursing home;
• Thousands of students' names and details placed on Criminal Intelligence or Domestic Extremism databases;
• Finding a police officer you've never seen before knows your name and personal details about you;
• A range of 'disruption' activities, to undermine and make life difficult for organisers and activist groups including excessive stop and searches (often many times in one day) and arbitrary arrests. This can also include undercover police officers getting involved with and disrupting activist meetings
• Trolling of websites with a targeted police 'message';
• Kettles, kettles and more kettles – they are so useful for data gathering, and for disrupting protest;
• Stop and search, breach of the peace arrests, and accusations of 'anti-social behaviour', all tried and trusted methods of getting the personal details of protesters
Over the last decade, the target of police intelligence hasn't been the so-called criminal element, but the organiser, the facilitator, the groups who get active and make protest happen. These are the people most likely to feel the brunt of police tactics, and suffer real harassment for daring to organise demonstrations. However, the objective is to frighten away as many as possible, including those 'on the periphery' - the large contingent who support what is going on, but who may not have the commitment to keep going when the going gets tough.
Police intelligence gathering and 'disruption' doesn't just prevent criminal activity – it seeks to deter people from getting involved in any protest at which criminality can occur. In effect, this means any they don't like and certainly any with the audacity to not stick to a state approved A-B route or a protest pen.
The 'harassment style policing' of intelligence teams has a much greater effect on our civil liberties and our ability to organise and protest than any number of water cannons or horse charges, and must be opposed. As usual, Aaron Porter should be a lot more careful about what he says.
Smash EDO's Hammertime protest on 13th October saw a return to kettling, mass arrests and draconian policing. Proving finally the post G20 honeymoon is over, Sussex police clearly showed it was business as usual in attempting to repress, intimidate and harass protesters.
Before the protest had even begun, over 100 police surrounded the convergence centre where people were staying and attempted to escort them to the designated protest area in a mobile kettle, demanding masks be removed.
This was, according to the police, an entirely peaceful march, with no criminal offences taking place. It was predominantly a trade union march, upbeat and with plenty of colourful banners. Yet the police still insisted on imposing strict conditions on the route, refusing to allow the march anywhere near the Conservative Party conference which was the focus of the protests. These conditions were 'robustly' enforced with ten foot metal cordons, dogs and huge numbers of police officers.
When, towards the end of the march, some from the anarchist block decided to force the point and leave the authorised route, they were immediately 'kettled' - surrounded and held by police and dog units. The fifty or so in the kettle were pushed and shoved towards the car park where coaches were waiting, and were told they would be searched and released. Police cameramen carefully filmed each person as they were searched, getting close up shots of head and shoulders, clothing, shoes and 'identifying features'. Police also demanded they give their name and address on film. The legality of all this is dubious - the Public Order Act (section 60) gives the police powers to search people for weapons but not, as they did here, to gather intelligence for their database while they are doing it.
When about half of the group objected to being filmed in this way, and refused to co-operate with the search while police cameras were present, the police response was to search them by force. At least one protester was left with severe bruising, another missing clumps of hair. None of the searches resulted in anything 'untoward' being found, there were no items seized and no arrests.
Generally the surveillance, while often discrete, was ever present. A large police mobile CCTV van (bearing the words Football Operations) was parked at the march start point. The National Public Order Intelligence Unit (NPOIU), the unit that exists to keep tabs on 'domestic extremists' were there too, gathering their own 'intel'. A very expensive police helicopter hovered above. And police cameramen took photographs from windows of a number of buildings lining the route (out of reach of Fitwatchers!).
Given the extent of surveillance of their members on this march, it is remarkable (though perhaps not surprising) that the unions don't do more to question where the line is between 'facilitating' protest, and controlling political expression.
>
Recent protest at the COP15 summit in Copenhagen saw the arrest of hundreds of protesters, up to 900 on Saturday's march. They were then held in wire cages set up in a warehouse on the edges of the city for up to 12 hours under legislation entitling the police to make 'preventative arrests'. Most were then released, but those charged with offences, including very minor public order offences, were deported.
The arrest of such large numbers of people signalled a clear strategy of clamping down on potentially disorderly protest, a policy of prevention being better than cure. But while many UK protesters are shocked by the treatment, it is an approach to policing they should be used to. The Danish police have clearly learned a lot from the Met.
The Politi have simply put their own slant on the British tactics of kettling. On Saturday thousands amassed for a mass march to the COP15 centre, but the police had already decided that sections of the march would never reach their destination. Police vehicles hurtled though the crowd, supported by riot police to break up the demonstration into smaller, more controllable sections. Initially they detained everyone who would sit still on the streets for several hours. They then transferred people to specially set up cages, where people were held for up to 12 hours.
The arrest of such large numbers clearly had a marked effect on the demonstration. Set up to target the 'black blocks' the arrests encompassed a wide range of people, including journalists, frightened teenagers and, bizarrely, a group of Hare Krishna. The more clued up black blocks, meanwhile, evaded the arrests and set about sporadic rioting in another area of the city.
The real danger of police tactics like these, is that they have the potential to deter people from taking part in large scale protests at European summits – whether that be protests against climate change, or against the domination of the G8 or WTO. In the UK, the numbers involved in political protest dropped markedly as kettling became more commonplace - as people were simply worn down by constantly having to face hours in police cordons every time they took to the streets.
It is yet to be seen whether the kettling tactics employed at COP15 by the Danish police are used more extensively from now on. Mass preventative arrests are a significant move away from the crowd dispersal techniques – tear gas, baton strikes etc - more normally seen in Europe, (although such dispersal methods were also used in Copenhagen, particularly when disorder was sporadic or unexpected and the police were unable to prepare).
There will undoubtedly be legal challenge to the Danish policing, as the arrests were arbitrary and the detention disproportionate. But political activists also need to resist this particular form of police bullying from the ground up. Anyone heading for the next summit may want to bear in mind that mass containment is easy for the police to pull off when people are passively prepared to be contained. Attempting to contain a resistant crowd is whole different ball game.
See also
and